General Subjects
Who are we?
Who are we? - Contacts - Collaboration - Site Map
General Subjects < Areas of Interest < Welcome
Our presentation will speak of the following issues:
The Company - The Founder - His Support - Our Targets - Our Partners
The Company
After a several months' period of preparation, the company owning the verbaliter site was declared as a one person's company at the Munich Gewerbeamt. So it is simply named according to its founder's name, Hans-Rudolf Hower, and is still in its implementation period in every respect.
Official Registration

Name

Hans-Rudolf Hower

Address

Eduard-Thoeny-Str. 3

Phone

+4989/797649, mobile +49177/5728778

Fax

+49177/995728778

Registration office

Gewerbeamt Muenchen

Registration number

A02081214

Tax office

Finanzamt Muenchen II

Tax identification number

DE223199952
For more details on the company, see also Contacts.

The Founder
This is the founder of the company, during his Easter holidays, in 2002: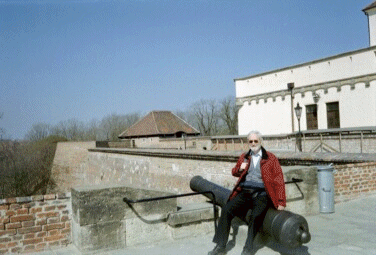 Photo: Danielle Hower 2002
Really, I do not look like a manager here, but note the symbolic importance of the photo: verbaliter is in the gun-barrel, my hand is at the fuse, and here we go!
My cultural background was actually formed by humanities (theological, orientalistic and classical studies in Heidelberg, Romance studies in Heidelberg and Aix-en-Provence, German studies in Strasbourg, the latter with an official degree for a change...). Afterwards I had a many years' experience in the field of information technology, especially as a software developer programming and describing various kinds of software (multiilingual databases, interlinear translations, automatic generation of technical and commercial dictionaries, internationalisations (among others, an arabisation), project management, accountancy, expert systems, management information systems), as a technical writer making user manuals for intelligent phone services, and as a project manager in all of these domains.
Due to these activities I had often to work as a translator, especially between German, Frenche, English, and Italian, or to write user manuals and presentation papers directly in the foreign language.
During my spare time it occurred to me to write some articles in Italian for the Venetian magazine Mondo lusofono, about topics coming from Internet sites in Spanish and Portuguese.
I do not even shrink from translating interesting texts from several other foreign languages, as you can see in several offers contained in these pages. This is, so to say, a by-product of my predilection which consists in travelling about in Europe and reading literature in its original language if ever possible...
After the end of my regular employment I am spending my inceased "leasure time" with free-lance translations as well as with the tasks set to myself by verbaliter.

His Support
In all the above-mentioned activities I have been supported, above all, by my wife Danielle, mother and main educator of our three children, French native speaker, English studies in Aix-en-Provence (oh yes, it's there we met us...), then English grammar-school teacher in France, now French teacher at the Munich adult education centre, sometimes equally German teacher for French-speaking African people seeking asylum in Munich, and at least as fanatical a reader of literature as myself. Judge yourself:
Photo: Hans-Rudolf Hower 2002

Danielle waiting for the bus after a hike in the mountains, obviously reading anywhere...

So we are a good example of the equality of opportunity for man and woman within the family, arent't we? ;-)

Our Targets
Our aim is to present free offers as well as commercial products and services,
that have their starting-points in linguistic or litterary problems,
but sometimes go beyond,
and are often not available in usual commercial offers.

By these offers we explicitly address companies and private persons.

We are convinced we will best reach our targets by:
our own competence,
continuous or temporary collaboration with supplying partners,
and continuous exchange of ideas with our users.

Our Partners
We are already partners of the following companies or persons:
amazon.com
amazon.co.uk
amazon.de
amazon.fr
amazon.pl
We are still looking for new partnerships, namely in the following domains:
book and music publishers/sellers
producers of regional wine or other good things
translators, interpreters, and texters
appropriate offers coming from private persons, e.g. teachers
Hans-Rudolf Hower, 2003

Frequently-asked questions - Webmaster
Last updated: July 30, 2019